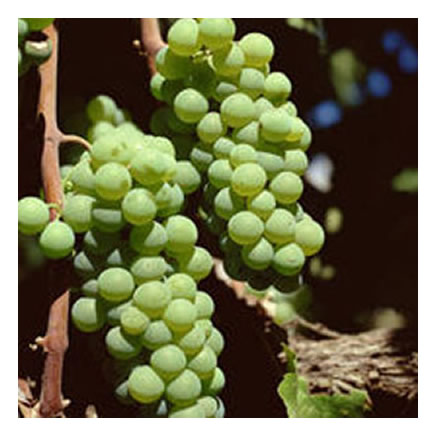 The Semillon grape, the traditional Bordeaux grape for the white wines in this region, is rather old and its early appearance dates back to the XVII th century although there is no clear explanation about who and how it was brought over to the sole region of Bordeaux.
We know that red grapes were brought into France by the Romans crossing the borders from the South and heading then to the West ( City of Narbonne) before moving forward to the West ( region of Bordeaux).
But in the case of Semillon the grape appeared in Bordeaux before moving eastward and down to the region of Provence in the south of France.
Anyway the grape accounts for the making of the sweet white wines, like Sauternes, Barsac. It grows fairly well in gravelly soils, clay or limestone and can resist the frost.
The Semillon is sensitive to the Botrytis Cinerea and enjoy the noble rot whereby it will give out the most outstanding sweet wines like the Sauternes, including the most famous Château d'Yquem. The Botrytis allows for the making of a high concentration of the natural sugars. It will cover the grapes every year in September and hit them in such a way that they look like ill-shaped, rotten grapes but its general effect is outstanding: the Botrytis softens the natural acidity, add sugars and glycerin to the plant,
Harvesting is generally scheduled in September and will begin the moment the grapes are touched by the noble rot. The grapes are considered as "over-matured" at this time, hence the hand-by-hand harvesting where grains are removed carefully over several runs through the vineyard.
The results after fermentation are noble sweet wines with a deep colour of honey, aromas of butter, almonds, hazelnuts or figs.
However, ever since the last world war, the consumption of wines is France has been constantly declining and the white wines, whether dry or sweet ones, have been hit by the phenomenon. Still there is a recent trend where white wines are served before lunch (along with appetizers) sharing the front table long with alcoholic drinks. As a matter of fact, the planted area was struck to a current 15,000 hectares versus 30,000 at the turn of the XXth century.
The grape can also be found in the region of Cognac, up north Bordeaux and foreign countries like Chile, California, South-Africa to mention just a few.
Source:
1. Sémillon
2. The Cookie Diet Review
3. Semillon | Wine grapes | JancisRobinson.com

Image Credit
www.italiancook.ca